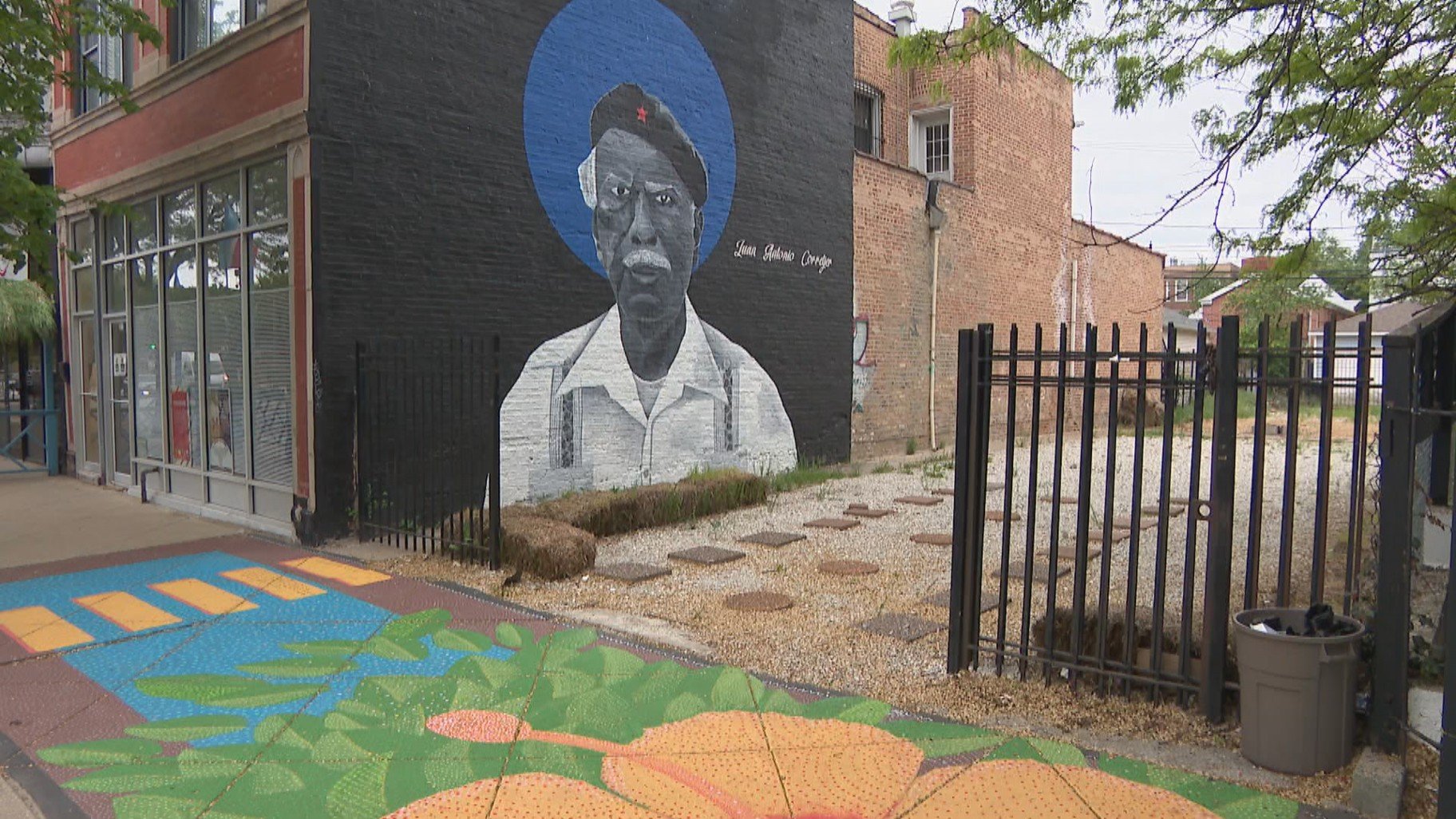 'Chicago Tonight' in Your Neighborhood: Humboldt Park Works to Maintain Local Culture | Chicago News
The Casita of Don Pedro is one of many parts of Humboldt Park that reminds people of the neighborhood's deep Puerto Rican roots. Maintaining that culture is something defenders have focused on.
Walking down Division Street, pedestrians will pass nine murals painted by local artists. The idea is to create public art and beautify the neighborhood, but with Puerto Rican art, in particular, as gentrification gradually takes hold.
Artist Cristian Roldán led the effort and recruited other artists. He says that after living in Humboldt Park for seven years, he certainly noticed changes in social norms.
"Recently, people were going to the park to play music on the cars, turning off the speakers," Roldán said. "Now you have signs this year that say 'no loud music.' to do, ways to relax, now it's forbidden.
For sidewalk murals, Roldán has partnered with the city's Alfresco initiative to create welcoming spaces for outdoor dining.
Rollan describes them as rugs that invite you into your home.
"That's what gives meaning to public art," he said. "The different types of views on the work of art. This is how he fits into a collective aesthetic. From all these different ideas, he builds dialogues, conversations.
Recently, the conversation has also focused on the famous steel flags of Paseo Boricua, which have been mainstays of the community since their erection in 1995.
The Chicago Landmarks Commission voted for a "preliminary landmark recommendation" for the Paseo Boricua walkway flags in early April.
José Lopez, executive director of the The Puerto Rican Cultural Center was one of the first community leaders to push for the construction of the flags.
"They commemorate the first migration of Puerto Ricans who came to Chicago to work on the pipelines," Lopez said. "It really commemorates the Puerto Rican presence in Chicago and in our country."
Lopez said that in September the city council would officially vote on it and a big party in the neighborhood would begin.
Video: Jose Lopez, Executive Director of the Puerto Rican Cultural Center, on the cultural heritage and history of the Humboldt Park community.
Another change the neighborhood has experienced is the lack of access to quality food.
The local alderman says Humboldt Park is actually a food desert.
"It's been recognized as a food desert for many years," Ald said. Roberto Maldonado (26th Ward) said. "People have to get in their car and go to Target or go to other pretty big markets in the area. If you can't find what you're looking for at these locations, nothing compares to what we're going to have and see in the future expansion of Central Park Foods.
It refers to the future home of Central Park Foods: The former CVS Pharmacy on Division and Grand has been empty for 12 years. It used to be a CVS, it was a Jewel Osco grocery store.
The grocer is expanding from a much smaller original location just across the street. At the current location, shoppers can access fresh produce, but owner Jimmy Bousis says it's too small and it's time to move to this larger location.
"My vision is to better serve the community," Bousis said. "I started my business in the early 80s. The store where I am now is really small and I can't really serve the community and give it what it needs. My dream has always been to come here, to a bigger store, to serve the community and say thank you for your support all these years.
For Bousis, it's a dream that began in 1987 when he first opened the little store across the street, his first grocery store of many in the Chicago area.
He started it knowing nothing about running a grocery store back then, but now he owns 10 stores in Chicago and his son owns five Cermak Fresh Market locations.
Bousis says he is investing $7 million in this new 35,000 square foot location and hopes to open it as a full-service grocery store by November.
Video: Aldus. Roberto Maldonado (26th Ward) discusses the Humboldt Park community's access to healthy food and what makes the neighborhood special.
Another change in this neighborhood was the area hospital.
Early last year, the Norwegian American Hospital changed its name to Humboldt Park Health.
Chief medical officer Dr Abha Agrawal says it's in response to what was happening: the pandemic has brought health inequities to the fore like never before.
The name now reflects the community of Humboldt Park, but also the hospital's goals of providing more wellness, rather than just meeting acute medical needs.
The hospital treats a large number of chronic conditions like diabetes and high blood pressure, but also a large number of patients with mental health needs, as well as a younger and LGBTQ population.
"The social determinants of health determine 30-40% of our health, I would rather say that only 10% of health outcomes are directly impacted by what we do inside the hospital," Agrawal said. "It is imperative for us to address the social determinants of health.
To that end, the hospital plans to open a brand new state-of-the-art wellness center on the Richmond-Sacramento divide in the coming weeks.
A rendering of the future Humboldt Park Health Wellness Center. (Courtesy of Humboldt Park Health)

It will include a walking track, fitness facilities, swimming pool, and spaces for physical therapy and community gatherings.
"It's a historic building that we anticipate it to be," she added. "It will change the whole makeup of this neighborhood to say yes, Humboldt Park can have a beautiful building that will advance health in Humboldt Park."
Agrawal says this is just the first phase of a larger wellness district plan. They hope to bring more affordable housing, also a social determinant of health, into phase two.
---
Community Report Series
"Chicago Tonight" is expanding its community reporting. We're taking to the streets to talk with your neighbors, local businesses, agencies and leaders about COVID-19, the economy, racial justice, education and more. See where we went and what we learned using the map below. Or select a community using the drop-down menu. Dots in red represent our COVID-19 Across Chicago series; blue marks our "Chicago Tonight" series in Your Neighborhood.
---