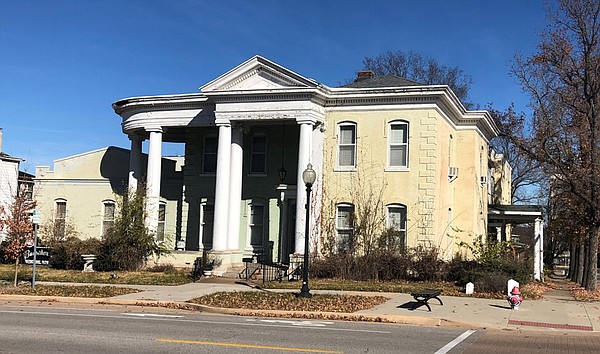 Decline of the family business Buescher, district
Editor's Note: This is part two of a two-part series on the Buescher family.
Barbara, the eldest child of Victor and Gladys Buescher, was very successful. After graduating from Jefferson City High School in 1956, she went on to earn an Associate of Arts degree from Jefferson City Junior College. She continued her education at the University of Missouri School of Nursing, receiving her cap in December 1958 and a bachelor's degree in nursing in 1962.
The Buescher family lived on the second floor of the family funeral home business at 429 E. Capitol Ave., before moving to 417 E. Capitol Ave. two doors away. Built in 1875, it was the former residence of Lieutenant Governor JF Gmelich. (This house was demolished in November 2021.)
While Barbara Buescher was a nursing student, a tragedy struck the family in 1961. Gladys mother Kate Melcher, who lived with the family, died in a fire at 417 E. Capitol Ave. According to the Jan. 24, 1961, Jefferson City Post Tribune article, the 84-year-old matriarch died in a fire in the kitchen of the Buescher House, allegedly when a rag in Ms Melcher's pocket caught fire due to from the stove. Ms Melcher's granddaughter Barbara, who was 23 at the time, reportedly attempted to quell the blaze and suffered minor burns in the unsuccessful attempt to help her grandmother.
After nursing school, Barbara changed course and enrolled in a mortuary science program at the University of Kansas, graduating in June 1962, being the only female in the class that year. His mortuary science thesis was "Psychological Aspects of Grief," a study of the many aspects of grief therapy.
With her new references in hand, Barbara joined the family business. A 1963 newspaper ad for the funeral home lists Victor, Gladys, daughters Barbara and Betty, and Vic's mother, Mrs. Margaret Buescher, as part of the family business. In addition, Willie Norment has been added to the staff. At that time, the company offered contingency plans and 24 hour ambulance service. Barbara helped with ambulance calls.
The Buescher sisters separated in 1962 with three graduations and two marriages that year. Barbara received her certificate in mortuary science. Bonnie completed her degree in X-ray technology and married Airman 1st Class William Anthony Fairchild, of Osawatomie, Kansas. After graduating from Jefferson City High School, Beverly married Edgar E. Perrey Jr., of Holts Summit. They moved to Washington, DC, where Edgar, a civil engineer, assumed active service in the military. Vic and Gladys' second daughter, Betty, became an active member of the funeral home team even though she did not receive formal training on embalming.
Years go by as the family business continues to thrive. Vic had succeeded in forging a solid reputation in the community. His business came from a loyal following of repeat offender families and state penitentiary inmates.
As Vic and Gladys neared retirement age, Barbara and Betty learned the trade and were ready to continue the family tradition.
Over the years, Vic has acquired properties in the Capitol Avenue neighborhood for investment reasons or perhaps to provide financial security for his daughters. Unfortunately, many of these properties, numbering over 30, are now vacant and are deteriorating.
Gladys died in 1993 at the age of 83; Vic in 1996, a day after his 88th birthday. For 13 years after Vic left, Barbara continued to run the business with Betty. However, Betty prematurely retired from the company, selling her shares to Barbara, leaving Barbara alone to run the business. But legal issues came to a head in 2009, forcing Barbara to shut down the funeral home. It was the sad end of a long and successful family business. Neither Betty nor Barbara have ever married.
Barbara lived on Capitol Avenue for her 83 years, longer than anyone in the long history of the streets. Her family's home and business, the historic two-story Italian brick structure with its elegantly curved porch and tall columns at 429 E. Capitol Ave., is now a Grand Lady in decline.
In 2006, the Capitol Avenue Historic District that includes the Buescher Funeral Home was added to the National Register of Historic Places, bounded by State, Adams, High, and Cherry Streets. But in 2016, with further deterioration of the neighborhood, many buildings in the neighborhood were declared dilapidated, opening the door to legal remedies such as the Eminent Estate. These vacant and dilapidated properties were located just four blocks from the neighborhood. Over 25 of these belonged to Barbara Buescher, most of which were her father's real estate investments.
The Jefferson City Housing Authority has acquired nine properties (seven per prominent estate), sold eight of them and five of them are currently in court. Eight were demolished and another demolition is planned.
The once significant Buescher Funeral Home is vacant and derelict and has joined the ranks of Buescher's other dilapidated properties. Can he be saved from the ranks of the demolished?
Jenny Smith is a retired Highway Patrol Crime Lab chemist and former editor of the Yesterday and Today bulletin of historic Jefferson. The author thanks Katie Owens for her help in preparing this story. Efforts to reach Barbara Buescher for this column were unsuccessful.