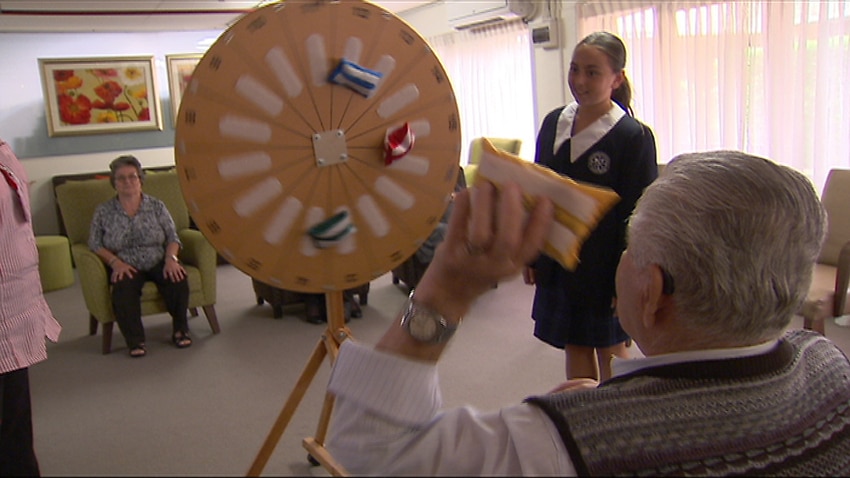 Young people support the growing population of nursing homes
With rapid growth expected in Australia's elderly care industry over the coming decades, concerns are emerging about how best to tackle the isolation and loneliness of residents.
For residents who may have limited English, the isolation may be further exacerbated, with some people with dementia reverting to their mother tongue.
Volunteer groups currently provide companionship.
Students from All Saints Grammar, a Greek Orthodox school in southwest Sydney, regularly visit a local Greek retirement home.
Elfa Lillis, principal of All Saints Grammer, said that St. Basil School and Nursing Home have enjoyed an ongoing relationship for several years – where students visit the Greek home to connect with residents.
"Opportunities like this allow children to connect with the local community and also understand their responsibility to give back to their society and the community at large."
In this non-profit house; students cook, make beds and help prepare meals. The experience for students is hands-on, and for some students, it is a little confronting at first.
Grade 11 student Nichola Ageras said her first visit was an experience.
"At first we're a little surprised because I've never been there before, it's a little intimidating at first. But then when we walked in and saw everyone, it's pretty good that they are getting help and they are really happy to see people visiting them. "
Christos Binos is also in eleventh grade and said it feels good to help others.
"There are a lot of jobs out there, some jobs that pay very well others less, but I don't think you can put a price on helping your neighbor."
In addition to helping with practical tasks, the students also provide companionship for the residents.
Saint-Basile's father's CEO Nicholas Stavropoulos said isolation was an ongoing problem for some residents.
"We also have many visiting community groups, but the most important thing for older people who are often stuck in bed or in a chair is to be touched, to talk to them, to hold their hands."
Most residents welcomed the presence of the students including George.
"It's really great. The kids seem so free," he said.
Resident Maria, originally from Athens, shared her enthusiasm for student visits.
"I feel very happy. Happy to see them all," she said.
There are over 172,000 people living in permanent elderly care facilities in Australia and that number is growing rapidly.
There are currently just over three million Australians over the age of 65 – by 2050 that number is expected to rise to over eight million.
Father Nicholas said visits from local school children have helped break the isolation in care and he wants to see young people play an ongoing role in residential care.
"In fact, we are exploring the idea of ​​having a preschool at each of our sites. We have seen good research from the United States and the Scandinavian countries showing that this interaction between the very young and the very young can be fruitful. for both."
School principal Elfa Lillis said volunteering teaches students to be proactive in life, not only by helping others, but also by challenging themselves.
"It's about giving back to the community, it's about being active participants, not being spectators and just going for a ride. It's about how they're going to add value. to society, "she said.